Course details
【2 hour premier all you can drink】 Fall Shabu course ~ Add fragrant savory shabu shabu with wooden child ~ [8 items in total] 6700 yen (excluding tax)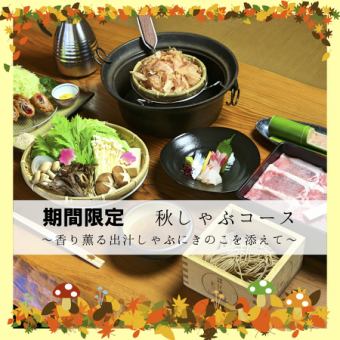 6700 yen
※ The price is tax excl.
Reservation deadline

Visit of hope the day before until 23:00
Autumn limited course using silver flower premiere pork. This season is gradually getting cold. In this time of the sharab-shabu season, it is a course that you can enjoy a delicious and savory delicious shabu-shabu, vegetable shabu-shabu full of mushrooms.
Course menu
◆ Three-in-first-out of this month
◆ Sashimi of today's sashimi
◆ Pork Shabu-shabu
【Silver Flower Premier Pork / Bleed】
◆ Mushrooms plenty of vegetables
◆ plum shoel and mille feuille
◆ Supplies 【Japanese buckwheat】
◆ Dessert
※ Please contact us beforehand when you have allergy etc.
※ The content may be changed due to the season and purchase situation etc.
※The image is an image.
※ You can drink all course at + 1500 yen.
2018/07/04 update