DETAIL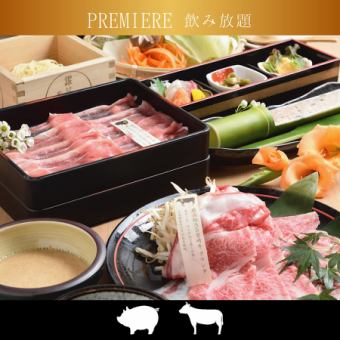 【2 hour premier all you can drink】 Hana Shabu course <All 7 items> Banquet / drinking party 7500 yen (excluding tax)
By using a coupon
7500 yen
※ The price is tax-free price.
A convenient course that you can use for a wide range from your meal with your family to the banquet at work.As with the cherries shabu course, you can taste both the beef shabu-shabu and the pig shabu-shabu so you can eat and compare ◎ cooking only course is 5,000 yen (tax excluded).
Menu

◆ Three-in-first-out of this month

◆ Sashimi of today's sashimi

◆ Beef Shabu-shabu 【A5 rank Miyazaki beef crassa】

◆ Pork Shabu-shabu 【Silver Flower Premiere Pork / Silver Flower Premiere Pork】

◆ seasonal vegetables

◆ Episode 【Japanese sweet rice for pigs or pig ramen or shabu shabu】

◆ dessert

※ Please contact us beforehand when you have allergy etc.

※ The content may be changed due to the season and purchase situation etc.

※ The image is an image.
Coupon that can be used
【Farewell Accommodation Special Plan】 Secretariat is safe, arranging bouquets by advance reservation

Presentation conditions

At the time of booking

Conditions of use

Other ticket service not be used

Expiration date

Until the end of March 2018

【Banquet Benefit】 10% cash back from your account with reservations of 10 or more people!

Presentation conditions

At the time of booking

Conditions of use

※ other ticket services not be used

Expiration date

Until the end of March 2018

[Foot planning]
For those who book for 8 people or more, a gift is given 1 ♪

Presentation conditions

At the time of booking

Conditions of use

Tickets and services can not be used together Required Reservations for 8 or more people

Expiration date

Until the end of March 2018