Course details
【All-you-can-drink for 2 hours】 Sakura Shabu course [All 8 items] 8500 yen (excluding tax)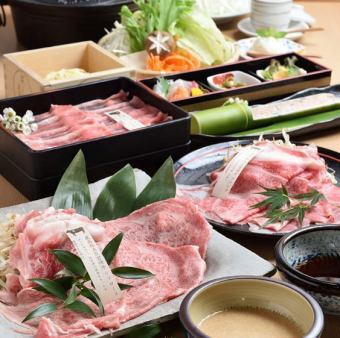 By using a coupon8500 yen
※ The price is tax excl.
All-you-can-drink available

All you can drink premium malt.In general you can drink as much as you wish for drinks at +1000 yen for local sake and Chita highball.(All-you-can-drink for 120 minutes / 30 minutes before the last order)
Reservation deadline

Until 22 o'clock on the desired date of coming to the store
Available days for reservation

Monday - Sunday - Public holidays - Holidays
A5 Miyazaki Beef's rib meat, including beef and pig meat dish is course.For cattle shabu-shabu, you can enjoy both Aomori Miyazaki bee's peach and ribulose, a luxurious course.All 50 types of all you can drink, including premium malt.
Course menu
◆ Three-in-first-out of this month
◆ Sashimi of today's sashimi
◆ Beef Shabu Shabu 【A5 rank Miyazaki beef ribulose】
◆ Beef Shabu - shabu 【A5 rank Miyazaki bee peach】
◆ Pork Shabu-shabu 【Silver Flower Premiere Pork, Baked Senko Premiere Pork】
◆ seasonal vegetables
◆ Episode 【Japanese sweet rice for pigs or pig ramen or shabu shabu】
◆ Dessert
※ Please contact us beforehand when you have allergy etc.※ The content may be changed due to the season and purchase situation etc.※The image is an image.
All-you-can-drink menu
·Highball
· Angular High Ball · Horn Angle · Angle High Ginger · Beam High Ball · Beam Cola · Beam Ginger
·beer
· Premium Malt · Shandigafuf · All-free (non alcohol)
·Sake
· Cold chow · hot soup
·Fruit wine
· Plum wine / yuzu sake / apple sake / white peach liquor / giant peak sake (rock · water split · soda crack · hot water split)
· Shochu · Shochu high
· Potato shochu (rock · water · soda · hot water) · wheat distilled spirit (rock · water split · soda crack · hot water split) / lemon shochu · grapefruit sho high · lime shochu high · calipso shochu · oolong high
·wine
· Red Wine · White Wine · Sangria · Kitty · Operator
· Spirits · Liqueur
· Jin and meat (with lemon and pepper) · Gin tonic · Zim bag · cassis soda · cassis oolong · cassis orange · peach soda · peach oolong · fuzzy navel
·Soft drink
· Cola · Ginger Ale · Tonic Water · Oolong Tea · Orange · Apple · Grapefruit · Calpis
· [+1000 yen special drinks are here for you ...]
· Please tell the staff at the time of reservation or visit ※.
·Highball
· Chita wind scenting high ball · horn high ball · horn high corner · horn high ginger · beam high ball · beam coke · beam ginger
·beer
· Premium Malt · Shandigafuf · All-free (non alcohol)
· Japanese sake ※ There is also seasonal limited liquor (cold · hot spring)
· Moon after rain · Incheon (Saijo) · Tomihisa (Akitsu) · Takanaka (Third) · Asahiho (Yabe) · Kamo Kurohide (Kurose) · Ryuushi (Takehara) · Takaya (Tottori ) · Ten Asahi (Shimane) · Daiken Shiraku (Okayama) · Yamagi (Yamaguchi)
·Fruit wine
· Plum wine / yuzu sake / apple sake / white peach liquor / giant peak sake (rock · water split · soda crack · hot water split)
·wine
· Red Wine · White Wine · Sangria · Kitty · Operator
· Shochu (rock · water split · soda crack · hot water split)
· 【Potato】 Black Kirishima · Katana · Satsu RED Rabbit · Mt. Mitake · Tominobusama · Manseza · Sato Black Koji · Isami 【Wheat】 Nishido · Morning Mourning Shima · Midori · Sato Whee · Cinda · Amakusa 【Other】 Remaining wave (Awamori) · Dabada fire (chestnut) · Kinmiya distilled spirit
· Shochu high
· Lemon · Grapefruit · Lime · Calpis · Oolong High
· Spirits · Liqueur
· Jin and meat (with lemon and pepper) · Gin tonic · Zim bag · cassis soda · cassis oolong · cassis orange · peach soda · peach oolong · fuzzy navel
· "Limited time" gift from Setouchi
· Lemon High Bow · Raw Lemon High Bowl · Raw Lemon Sour · Raw Orange Sour · Raw Harumi Sour · Raw Yakushu Sour · Raw Dekong Sour · Rice · Sake · Raw Haruka Sour · Large Lemon Squash (Non Alcohol)
·Soft drink
· Cola · Ginger Ale · Tonic Water · Oolong Tea · Orange · Apple · Grapefruit · Calpis
2018/11/30 update