Course details
【All-you-can-drink for 2 hours】 Hanabu shabu course [All 7 items] 6500 yen (excluding tax)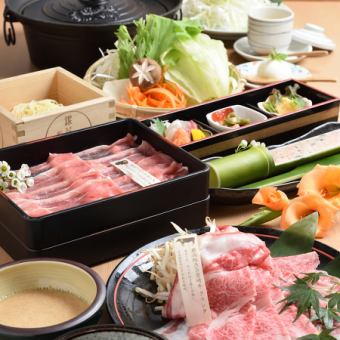 By using a coupon6500 yen
※ The price is tax excl.
All-you-can-drink available

All you can drink premium malt.In general you can drink as much as you wish for drinks at +1000 yen for local sake and Chita highball.(All-you-can-drink for 120 minutes / 30 minutes before the last order)
Reservation deadline

Until 22 o'clock on the desired date of coming to the store
Available days for reservation

Monday - Sunday - Public holidays - Holidays
A convenient course that you can use for a wide range from your meal with your family to the banquet at work.You can taste both cow shabu-shabu and pork shabu-shabu.All 50 types of all you can drink, including premium malt.
Course menu
◆ Three-in-first-out of this month
◆ Sashimi of today's sashimi
◆ Beef Shabu-shabu 【A5 rank Miyazaki beef crassa】
◆ Pork Shabu-shabu 【Silver Flower Premiere Pork / Silver Flower Premiere Pork】
◆ seasonal vegetables
◆ Episode 【Japanese sweet rice for pigs or pig ramen or shabu shabu】
◆ Dessert
※ Please contact us beforehand when you have allergy etc.
※ The content may be changed due to the season and purchase situation etc.
※The image is an image.
All-you-can-drink menu
·Highball
· High Angle Ball · Ginger High Ball · Cork High
·beer
· Draft beer (premium malt)
·Sake
· Cold chow · Sake
·Fruit wine
· Plum wine / yuzu sake / apple sake / white peach liquor / giant peak sake (rock · water split · soda crack · hot water split)
· Shochu · Shochu high
· Potato (rock · water · soda · hot water) Sho · wheat shochu (rock · water split · soda diving · hot water split) / lemon shochu high · grapefruit shochu high · lime sho high · calpis shochu
·wine
· Red wine · White wine
·Cocktail
· Cassis Soda · Cassis Orange · Cassis Oolong · Peach Soda · Peach Oolong · Fuzzy Neeble · Shandigaf · Operator · Kitty
·Soft drink
· Oolong tea · Tonic water · Pepsi cola · Gingeraire · Orange 100% · Grapefruit · Calpis
· [+1000 yen special drinks are here for you ...]
· Please tell the staff at the time of reservation or visit ※.
·Highball
· Chita Highball · Angle High Bow · Ginger High Bow · Cork High
·beer
· Draft beer (premium malt)
· Japanese sake ※ Seasonal limited liquor is also available
· Moon after rain · Incheon (Saijo) · Tomihisa (Akitsu) · Takanaka (Third) · Asahiho (Yabe) · Kamo Kurohide (Kurose) · Ryuushi (Takehara) · Takaya (Tottori ) · Ten Asahi (Shimane) · Daiken Shiraku (Okayama) · Yamagi (Yamaguchi)
·Fruit wine
· 【Hiroshima plum wine】 / plum wine / yuzu sake / apple sake / white peach liquor / huge peak sake (rock · water split · soda crack · hot water split)
·wine
· Red wine · White wine
· Shochu
· Black Kirishima, Sword, Manza, Sato Black Rice, Satsuza Red Rabbits, Mt. Futanoba Mountain, Isami, Amakusa, Morning Mourishima, Midori, Sato Tea Label, Nikaido, Kanazaki, Awamori Remaining White, Dabada Fire , Kingumiya distilled spirit
· Shochu high
· Red wine · White wine
·Cocktail
· Cassis Soda · Cassis Orange · Cassis Oolong · Peach Soda · Peach Oolong · Fuzzy Neeble · Shandigaf · Operator · Kitty
·Soft drink
· Oolong tea · Tonic water · Pepsi cola · Gingeraire · Orange 100% · Grapefruit · Calpis
2018/11/30 update